13 August 2012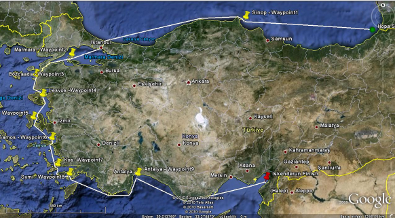 RESULTS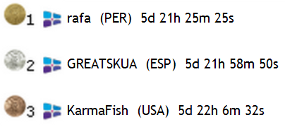 FELICIDADES rafa!!! FELICIDADES GREATSKUA!! CONGRATULATIONS KarmaFish!
This has been the speediest running to date of SOL's favourite summer race with the previous record being beaten by 6 days 14 hours 30 min 12 sec! The Black Sea was kind to us from Hopa and despite a splitting of the fleet, favourable winds brought us quickly to the Bosphorous. This tricky gorge and the Dardanelles after the Sea of Marmara both bring a high rate of attrition, with the islands of the Mediterranean coast proving tricky to avoid. Nevertheless, SOL's podium this year is from a very tight group, several of whom came close to grabbing the podium. So congratulations to our winning three and commiserations to those very close behind!
BACKGROUND
In 2010 a group of Turkish SOLers, led by TUR_AC505, asked if SOL would sail a race around the Turkish coastline. It seemed a harmless enough request. The race that was produced became an epic adventure (1) the run from Hopi to Istanbul is pure Black Sea, with often fickle winds (2) from Istanbul through the Sea of Marmara and the crazy Dardanelles to the Aegean, and then (3) the coast many of us know best, the "Mediterranean" coast with its many tourist destinations. The race is now an annual event and really is a splendid challenge. In addition to recapturing history and offering great sight-seeing along the way, the trials we will all share in sailing this course will create friendships forever!
Guided Tour
__________________________
Races
Next Race: 00d 00h 00m
---
Current Races:
Red Dot 2017 - Leg 2 - Greenland to Alaska
Inspired by Matt Rutherford's single handed circumnavigation of the Americas, and proposed by SOLer Renegade, Sailonline is racing the course in 5 legs. This is Leg 2 - 2,099nm from Nuuk, Greenland to Barrow, Alaska.
Race #1029
INFO by brainaid.de
SuperMaxi 100 Particulars
WX Updates:
0430 / 1030 / 1630 / 2230
RANKING: RedDot - SYC
ALT. CLIENT: Classic
Race starts: May 17th 10:00 Registration Open!
GO TO RACE
Rendezvous 2017 - Tall Ships Regatta - Sines to Bermuda
Welcome to the first of three Rendezvous Tall Ships events, where we race our superb Clippers across the Atlantic - a total of 3213nm from Sines, Portugal to Bermuda NOTE:Starts and Finishes in tall ships racing are well offshore to avoid conflict with shipping and shipping lanes.
Race #1031
INFO by brainaid.de
Clipper Particulars
WX Updates:
0430 / 1030 / 1630 / 2230
RANKING: TS-RDV - SYC
ALT. CLIENT: Classic
Race starts: May 01st 17:00 Registration Open!
GO TO RACE
SYC Ranking
Series
Mobile Client
SYC members have the benefit of access to our mobile/lightweight web client!