13 August 2012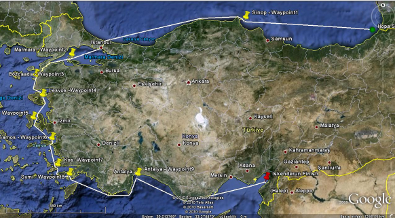 RESULTS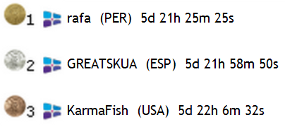 FELICIDADES rafa!!! FELICIDADES GREATSKUA!! CONGRATULATIONS KarmaFish!
This has been the speediest running to date of SOL's favourite summer race with the previous record being beaten by 6 days 14 hours 30 min 12 sec! The Black Sea was kind to us from Hopa and despite a splitting of the fleet, favourable winds brought us quickly to the Bosphorous. This tricky gorge and the Dardanelles after the Sea of Marmara both bring a high rate of attrition, with the islands of the Mediterranean coast proving tricky to avoid. Nevertheless, SOL's podium this year is from a very tight group, several of whom came close to grabbing the podium. So congratulations to our winning three and commiserations to those very close behind!
BACKGROUND
In 2010 a group of Turkish SOLers, led by TUR_AC505, asked if SOL would sail a race around the Turkish coastline. It seemed a harmless enough request. The race that was produced became an epic adventure (1) the run from Hopi to Istanbul is pure Black Sea, with often fickle winds (2) from Istanbul through the Sea of Marmara and the crazy Dardanelles to the Aegean, and then (3) the coast many of us know best, the "Mediterranean" coast with its many tourist destinations. The race is now an annual event and really is a splendid challenge. In addition to recapturing history and offering great sight-seeing along the way, the trials we will all share in sailing this course will create friendships forever!
Guided Tour
__________________________
Races
Next Race: 00d 00h 00m
---
Current Races:
2017 40' Series Championship Q3&Q4 - Lord Howe
Welcome to the final 6th of 6 races in this season (Q3/Q4) of our 40' series!
We will use the iconic 412nm racecourse from Gosford to Lord Howe Island.
The island is considered one of the most beautiful islands in the Pacific - one of just four island groups to be inscribed on UNESCO's World Heritage list for the global significance of its natural beauty and heritage. Located in the Tasman Sea between Australia and New Zealand, administratively it is part of the Australian state of New South Wales.

HOW TO BE DISQUALIFIED!!
READ THIS !!!!

Race # 1099
INFOfrom brainaid.de
WX Updates:
0430 / 1030 / 1630 / 2230
Ranking:
40CQ3&4 - SYC
ALT. CLIENT:Classic

RACE CLOSE:Monday, 18 December at 02:00 UTC
Race starts: Dec 14th 02:00 Registration Closed
GO TO RACE
SWR 17/18 Leg 3 - Cape Town to Melbourne
This, the third of eleven legs of the 2017/18 Sailonline World Race, takes us from Cape Town to Melbourne!
After departing Cape Town in probably light winds and passing Cape of Good Hope, the keyword is "The Westerly Stormtrack" and to catch that, the weather will take us deep down south through the "Roaring Forties" and beyond, and then blow us toward Melbourne.
The southern race boundary has been set at 60°S to mark the Antarctic Ice Exclusion Zone, which will, hopefully, give us a clear run.
Race #1101
INFOfrom brainaid.de
OD65v3 Particulars
WX Updates: 0430 / 1030 / 1630 / 2230
Ranking: OCCH-OCQ4-SUPSOL-SWR-SYC
ALT. CLIENT:Classic
Race starts: Dec 10th 12:00 Registration Open!
GO TO RACE
Christmas to Christmas Islands 2017
Having discovered that there is more than one Christmas Island some years ago, each year in the run up to the festive season, Sailonline races from the Pacific island to the Indian Ocean one - a distance of 5,837nm. The choice of route is entirely up to you! Fair winds!
Race #1098
INFO by brainaid.de
Super Maxi 100 Particulars
WX Updates:
0430 / 1030 / 1630 / 2230
RANKING: NONE
ALT. CLIENT: Classic
Race starts: Dec 02nd 02:00 Registration Closed
GO TO RACE
SYC Ranking
Series
Mobile Client
SYC members have the benefit of access to our mobile/lightweight web client!